Introduction
MCC-CERI was initially Founded in 1951 as a design institute with name of, Beijing Central Engineering and Research Incorporation of Iron & Steel Industry (CERIS) and through the course of overall restructuring, the Capital Engineering & Research Incorporation Ltd. (hereinafter called "CERI") was founded on Nov. 28, 2003 in accordance with the relevant state policy/requirement and under the leadership of China Metallurgical Construction Corp. (MCC). CERI is a modern multi-shareholding enterprise possessing an array of intellectual property rights, manufacturing equipment and technical management expertise. It is a dynamic and competitive company.
As the leading company within the Chinese metallurgical industry, more than 6000 projects have been successfully completed by MCC-CERI during the past 50 years. Four main business fields have been established to include EPC of projects, equipment and material manufacture, real-estate development, and resource development have been established, covering mineral, metallurgical, chemical, power, public service highway and building sectors. The company has experienced rapid growth after restructuring in 2003, and now have contract volume over 13.9 billion RMB and the turnover has reached over 10 billion RMB in 2008 (1.5 billion USD).
Products and Services
CERI provides a wide array of products and services. A list of products and services relevant to metallurgical and machinery for steel industry is provided and described below.
Engineering, Consulting, and Design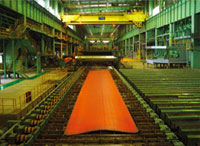 CERI has provided engineering services for more than 500 customers at home and abroad in the fields of iron and steel industry, municipal project, building material, energy, environmental protection, textile industry, food industry, telecommunication and transportation.
· Project Development, Planning, Consulting for Iron & Steel Industry
· Market Survey, Consulting for Project Investment and Evaluation
· Design of New Steel Plants, Revamping of Existing Steel Plants, Production Expansion
Special straight welded pipe (UOE) line
Project Management and Construction Supervision
CERI provides bidding agent service for project construction and agent construction management for projects (agent construction at the proposal phase and during the execution of the project).
· Feasibility Study, Project Planning, Procurement
· Technical Consulting for Bidding, Cost Control, Supervision
· Large and Medium Steel Structures, Metallurgical Complexes, Production Processes
Design China first 5000mm heavy plate mill
Machinery Building and Manufacturing
First 2150mm walking beam reheating furnace
CERI utilizes the advantages on a combination of process engineering and equipment designing to transform the technological achievements invented, developed and integrated by CERI into an advanced, reliable and applicable process technology and production equipment for the manufacture industry. The newly established Yingkou Plant Base has a land occupying an area of about 4 km
2
, including both equipment manufacture and plant operation, which integrates research, development, and construction of heavy metallurgical equipment and machining equipment.
Through continuous technical research and development over the past 50 years CERI has designed high quality new equipment and fulfilled design and equipment supply for several dozen projects for bar mills, flat products, steel pipe and section steel mills. The total production capacity of the equipment designed exceeds 60 million tons.
· Seamless Pipe Production Equipment
· Heavy Size Stands
· Three-roll Centering Machines
· Tension Reducing Stands
· Plate Production Lines
· Pickling Lines
· Cold Strip Production Lines
· Tandem Cold Mills
100t EAF in CERI' Yinkou pilot plant base
Skin-pass Mills
· Stretch Tension Levelers
· Color Coating Lines
· Round Bar Rolling Lines
· Short Stress Path Rolling Mills
· Flying Shears for Round Bars
· Cold Flying Shears
· Cooling Beds
· High-speed Wire Rod Finishing Mills
· Hydraulic Systems
∮600 bloom Caster in CERI' Yinkou pilot plant base
Project Overall Contracting (Turn-key project)
4 million ton turn-key project from steel making to rolling
CERI has undertaken turn-key projects and package supply at home and abroad for the steel industry, including iron making, steelmaking, rolling mills, ferroalloy smelting, DN100~DN1000 ductile iron pipe casting machines, color coating and galvanizing units, industrial furnaces and kilns, raw material handling facilities, pressure vessels of category-3 and water treatment plants. Overall contracting service in all the above-mentioned projects ranges from engineering design, civil work, through equipment supply to commissioning and acceptance.
Achievements and Notable Projects
· The first homemade new type continuous wide strip hot mill project in China. The continuous wide strip hot mill projects with EPC or engineering design undertaken by CERI accounts for approximately 30% of the domestic market share.
· Engineering design for the widest domestic continuous thin slab casting and rolling line at 1750mm wide. It is equipped with the state-of-the art technology (2RM+5FM) of the world, and is capable of producing medium or low grade non-oriented silicon steel. CERI accounts for approximately 40% of the market share for the continuous thin slab casting and rolling lines in operation domestically.
Patented 8-high 5-stand tandem cold mill.
· The first homemade 4.0mm hot wide strip galvanizing line project in China.
· The first (Φ168mm) PQF 3-roll continuous pipe mill line in the world. A seamless pipe production line with the highest technological level in the world, integrated independently by CERI. CERI accounts for approximately 50% of the domestic market share.
Company Website