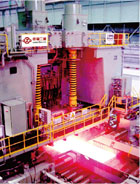 TTIC is a wholly Owned Foreign invested company in China. It was formerly a subsidiary of one of the major Mill Builders of USA, Tippins Technologies Inc, specializing in the supply and modernization of Rolling Mills for producers in the ferrous and non-ferrous industries. It was originally a regional office of Tippins and then became a company in March 2005, located in Beijing, China. In the same year, Tippins Technologies Inc USA was sold to another Mill Supplier SMS Group of Germany and then later it became a part of the SMS Group Companies. TTIC has remained as an independent company serving metal industry. Although Tippins name was sold to SMS and is not allowed to be used, TTIC is an independent company with rich experience in metal industry in both Western and Eastern worlds.
China has imported advanced technologies and mill equipment from all over the world since the adaption of the open door policy. Accompanied by the developments of the steel industry, Chinese mill suppliers have also developed their own advancements in the technologies and engineering in the area. In the past these Chinese Supplier were mainly concentrating their efforts on the domestic needs but it is now the time that they are ready to enter the world market.
Since TTIC has been helping its parent company to source engineering work and Chinese OEM suppliers for the mills sold to other countries for many years, TTIC not only has its capability in converting Western drawings the Chinese standard but also has held wide contacts with various Chinese Machinery Builders, design institutes and other suppliers serving metal industry. Therefore TTIC was able to learn from its own experiences and to identify the best Chinese suppliers in each area. By selecting the best companies in each area of their specialties TTIC is now promoting the good products and service for these companies. Some of them are top in the world and some others are top in China.
Here are the major companies TTIC represents:
Ø China National Erzhong Group, for any heavy machinery and complete mill equipment, among the largest Machinery Builders in the world
Ø Sinosteel Xingtai Machinery & Mill Roll Co., Ltd. the largest mill roll producer in the world with 180,000 tons per year
Ø Capital Engineering & Research Incorporation Limited (CERI) the most experienced and largest engineering company specialized in Steel Industry
Ø Ceri Phoenix Industrial Furnace Co., Ltd. one of the best furnace companies in the world
Ø Wuxi SEC Electrical Machinery Co., Ltd. A private company formerly a joint venture between Harbin Motor Company and Wuxi
Ø CHSTE Beijing Shougao Metallurgical Engineering and Equipment Co., Ltd. (MEEC) a joint venture between Nanjing High Speed and Accurate Gear Group Company and former Shougang
Ø Kunshan Wingstar Power Transmission Co., Ltd. a private company specialized in Spindle, gears etc
Ø Beijing Steel Rolling Technology Development Co., Ltd. A private company specialized in Cold mill, temper Mill etc with special technologies in multiple rolls.
Ø Shanghai Euro Mechanical & Electrical Co., Ltd. (EUROME CRANE) a private company serving lifting and transportation needs for steel mills.
Ø Tuopu Industry <Jiangsu> Co., Ltd. (TPCN) a company specialized in heat treated rolls and furnace rolls, Radiant Tubes and other stainless heat resist tubes.
Ø Baosteel Metallurgical Construction Co., Ltd. (BSMCC) One of the best construction companies specialized in mill construction and a Steel Structure Supplier. Its reference includes steel structure for Beijing Bird Nest Olympic Stadium and Beijing Shoudu Airport etc.
In addition TTIC held very good relationship with many large Metal Producers in China such as Baosteel, Kunming Iron and Steel Co, Nanjing United Steel Corp., Chongqing Iron and Steel Corp, Tangshan Iron and Steel Corp., Northeast Light Alloy Co, and Southwest Aluminum Fabricating Co. etc. TTIC has also contacts with other companies of import and export, transportation, and translation, TTIC also has wide contacts with many steel producers all over the world from China to USA, from Southeast Asia to Africa, from Europe to New Zealand. These are valuable asset of the company.
The new main business focus of TTIC is to introduce the best Chinese products to the world. Our goal is to promote some of these products with very good qualities and competitive prices to the world.
TTIC wishes to become a bridge between China and the rest of the world. Its rich experience on international transactions and unique business cultures will serve your need well.