Introduction
Located in Kunshan City, Jiangsu Province, China, Kunshan Wingstar Power Transmission Co., Ltd. is a professional manufacturer specialized in developing and producing Power Transmission products. It has a plant covering a total area of 57,550 square meters (619,468 square feet). The existing building covers 9800 square meters (105,487 square feet) and a new 24,000 square meter (258,336 square feet) workshop has completed construction. It plans to move into the new buildings at the end of 2009. Wingstar has highly qualified and experienced personnel, of the 180 employees, 65 are chief engineers and 20 are senior engineers.
Products at Wingstar include 13 series of universal shafts, 44 types and 448 products in total, and 9 series of gear couplings, 11 types and 172 products in total. The two main products have the characteristics of heavy duty, long life, high reliability and easy maintenance. Wingstar demonstrates strong capabilities in the market place with high quality and competitive prices.
Domestic market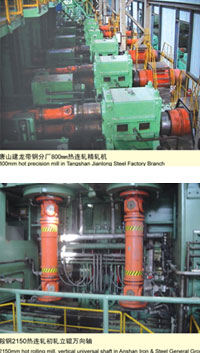 Wingstar provides either the whole or partial set of drive parts for two lines of the 5 Meter wide heavy plate mills at Sha Steel, the 1580 mm Hot Strip Mill at BaoSteel, the 2150 mm hot rolling mill and large omnipotent mill in An Steel, the Medium Plate and Medium Heavy Plates and the 1700 mm Hot Strip Mill at Ji Steel, the 1250 mm hot rolling mill in Qian An and the 800 mm card punch in Jiangsu Cheng De Seamless Pipe Plant. Wingstar is the largest Universal shaft supplier in China. It is favored by various steel companies in China for its high capability and excellent service.
International Market
Since 2003, Wingstar has extensively exported many of its products to USA, Europe, North Africa and Asia. These products are applied in various projects all over the world.
At present, Wingstar exports up to 1/3 of its total production, and it is increasing annually. Wingstar is a unique organization to have such an extensive export of such products in China.
Our overseas customers include:
- Special manufacturers for the power transmission in USA and Germany, and Wingstar supplies to them as OEM and ODM.
- Trading Companies: such as TOPP in USA and Thaitong in Thailand and so on.
- Steel Plants: such as Maghreb Steel in Morocco, TATA in India and Xing Bao Yuan in Taiwan area.
- Wingstar has been contracted for current projects by the following famous overseas mill Equipment and Engineering companies such as SMS Siemag in Germany, Siemens VAI in Europe, and Morgan in USA.
Wingstar provides full range of services including
· Commercial consultation and technical solutions
· Quality and delivery guarantees
· Assembly and maintenance assistance
· Inspection and repair
· After-sale service and follow-up feedback
· Emergency service
Wingstar's products have been well accepted and highly praised by many customers all over the world since its establishment in 1999. It is now attracting more and more customers.
Wingstar Website