Introduction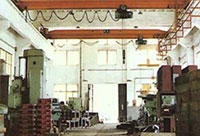 "EUROME CRANES (China)" is a Chinese crane manufacturing company located in Shanghai, which was jointly established by several prestigious Chinese crane manufacturers. Euromecranes is a professional producer of cranes and components and provides maintenance services, as well as consultation for crane design. It is committed to providing the highest quality cranes and spare parts at the most competitive price.
Euromecranes specializes in the following solutions:
· Project proposals
· Technology design
· Detailed design
Euromecranes offers a professional maintenance service for your cranes including equipment inspection, regular maintenance, and supply of components required for service. The company first considers the reliability and safety of its cranes; it also takes pride in finding ways to reduce the cost to its customers. It offers professional and timely service. The company's goal is to ensure that its customers are using cranes more safely and efficiently.
Products and Services
Industrial Cranes for Machinery Industry, Storage Industry, Petrochemical Industry, Automotive Industry, Mould Industry, Textile Industry:
LD Single Girder Cranes - Standard Type:
· Capacity: 1t~10t
· Span.: 7.5m~22.5m
· Lifting height: 6m~30m
· Control Mode: Push Button or Cabin
· Duty Class: A3~A5
E.O.T Double Girder Cranes - Standard Type:
· Capacity: 5t~100/20t
· Span: 10.5m ~ 31.5m
· Lifting height: 6m ~ 16m
· Control Mode: Push Button or Cabin
· Duty Class: A5, A6
L Type Single Girder Gantry Cranes (or Semi- Gantry Cranes) - Standard type:
Capacity: 1t ~ 20t
Span: 18m ~ 35m
Lifting Height: 6m ~ 12m
Control Mode: Push Button or Cabin
Duty Class: A3~A5
A Type Gantry Cranes - Standard type:
Capacity: 5t~50t
Span.: 18m~30m
Lifting Height: 6m~12m
Control Mode: Push Button or Cabin
Duty Class: A3~A5
Heavy Duty Cranes for Metallurgical Industry, Power Plants, Paper Mills, Shipyards:
Casting crane - Standard type:
Capacity : 50/10t ~ 260/75t
Span : 16m~25m
Lifting Height: 18m~30m
Duty Class: A6~A8
E.O.T charging crane - Standard type:
Capacity :100/30t ~ 240/50t
Span : 10m ~ 35m
Lifting height: 28m ~ 30m
Duty Class: A6, A7
E.O.T Electric Magnetic Handling-Girder Crane - Standard Type:
Capacity : 15t ~ 50/10t
General uses: (7.5+7.5)t, (10+10)t, (15+15)t, (17.5+17.5)t
Span : 10m ~ 30m
Lifting height: 12m ~ 14 m
Duty Class: A5, A6
Protection of the power outage
Adjustable magnetic appliance
E.O.T Crab Crane - Standard Type:
Capacity : 5t ~ 15t
Span : 10.5 m~31.5m
Lifting Height: 10 ~ 30m
Duty Class: A7
Special Cranes for Shipyards and Power Plants


· Large portal slewing cranes:
span :10m or 10.5m lifting weight: 5t ~ 160t
max work range: over 70m lifting height :70m
· Large gantry cranes operation:
span: 30m ~ 230m H.O.L: -13m ~ 80m
· Two typical projects:
1. 800t/span: 173m lifting height:-12m ~ +65m
(used for 600t ship body)
2. 1200t/span: 230m lifting height: -13m ~ + 80m (used for 2*350t + 2*350t/50t)
· Merits: hoisting upright, turning over in the sky
Company Website